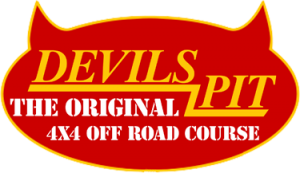 Diary
Bring your vehicle for all day fun. Catering and toilets on site.
£26 per vehicle – up to 5 people in the vehicle providing there are 5 seats and belts, everyone must wear a seatbelt.
Over 5 people then a £2 spectator fee is charged per extra person.
Children free No need to pre-book – just turn up on any of our open dates.
We now have Jet Wash facilities on site
2022 FOR

4×4's ONLY
(Contact us for private hire. Available for Quads/Bikes/Cars)
Sunday 10th July                            9.30am – 4.30pm
Sunday 4th September                9.30am – 4.30pm
Sunday 2nd October                    9.30am – 4.30pm
Sunday 27th November                9.30am – 3.30pm
Future dates TBC
Dates and events are subject to change (they probably wont but they might) so please check before you set out
There are also available dates for private hire – contact us: info@devilspit.co.uk or 07764159478