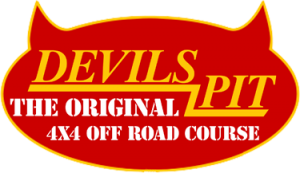 OFF ROAD GUIDELINES
Devils Pit is a fun off road course for the novice as much as the experienced.
Please follow our guidlines and read some of our tips below
The sites routes are graded with three different colours as follows.
GREEN – Suitable for the standard road vehicle and complete novice – set out to ensure if any damage is done it will be minimal.
RED – Designed for the more experienced driver.
BLACK – Expert only sections that should only be driven with a FULL roll cage and 5 point harness seat belts, failure to take care here may result in a roll and serious damage. PLEASE NOTE: crash helmets must be worn on all Black routes.
SEAT BELTS MUST BE WORN AT ALL TIMES, SITE SPEED LIMIT IS 5 MPH, NO STANDING ON THE BACK OF VEHICLES.
1. Secure or remove any loose objects.
2. Wear a seatbelt
3. Engage LOW TRANSFER 4WD
4. When encountering a hazard, stop and walk the section
5. When attempting a step climb or decent, keep the vehicle as square on to the slope as possible.
6. DO NOT DECLUTCH when making a steep descent, just cover the foot brake and gently apply as necessary.
7. If you spin to a halt on a steep climb, select reverse and run back using the transmission and keeping the vehicle straight. DO NOT DECLUTCH and freewheel.
8. If you stall on a steep climb, engage reverse gear and declutch, then whilst in gear release the brakes and key start the engine down the slope.
9. If you catch someone up DON'T DRIVE CLOSE behind them. On a climb they may spin and slide back to into you. On the other hand on a descent you may drive into them.
10. If you get stuck DON'T SPIN YOURSELF INTO A HOLE as this will make recovery much more difficult.
11. Don't expect to be proficient at first. Try a different line where you encounter a problem. You should aim to drive smoothly under full control at all times and not get bounced out of your seat.
12. You are recommended to remove any below-the-bumper accessories fitted to your vehicle as these reduce the approach and departure angles and may be at risk on some of the sections.
YOU ARE RESPONSIBLE FOR YOUR OWN AND YOUR VEHICLES SAFETY AND WELL BEING, FAILURE TO COMPLY WITH THE SITE RULES MAY RESULT IN DAMAGE TO YOUR VEHICLE AND YOUR REMOVAL FROM THE SITE.