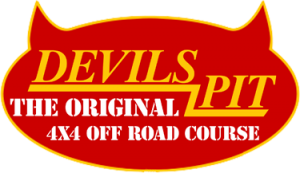 About
Devils Pit was opened in 1994, the aim was to provide a challenging off road environment that was safe for all levels of 4×4 driver and vehicle for recreational activities.
Situated alongside the A6 at Barton-Le-Clay, Bedfordshire. Devils Pit is set in over 30 acres of different terrain from gentle slopes to shear drops.
Suitable for the novice and the experienced, Devils Pit has 3 marked courses with the black course requiring full roll cage, harness and crash helmet. Tuition is available on the day. Please enquire on the day or email us to book one of the available slots.
Devils Pit is family friendly (though we do ask that parents supervise children at all times)
Spectators are welcome & the site is accessible by all types of vehicle. Sports cars & vehicles with lower clearance may want to park closer to the road entrance though (it is a 4×4 course after all). Passenger rides around the course are available either from staff (Availability may be restricted on very busy days) or by asking someone driving round.
Suitable clothing should be worn when attending. Wellies / Boots are advisable. Expensive trainers and high heels don't last long at the Devils Pit (speaking from experience, trainers are rubbish on muddy hills with a camera).
As the original 4×4 course in England open to the public the Devils Pit is a great way to spend a Sunday and we have regular attendees aged from 5 to 75.
Bring your vehicle for all day fun.
Catering and toilets on site.
£26 per vehicle – up to 5 people in the vehicle providing there are 5 seats and belts, everyone must wear a seatbelt.
Over 5 people then a £2 spectator fee is charged per extra person.
Children free
No need to pre-book – just turn up on any of our open dates.
Motor Sport is DANGEROUS.
Persons Attending These Events Do So Entirely So At Their Own Risk.  Please note that we do not promote or hire for motorsport competition, practice or practice for competition, race, or trials.
"It is a condition of admission that all persons having any connection with the promotion and/or organisation and/or conduct of the event including the owners of the land and the drivers and owners of the vehicles and passengers in the vehicles are absolved from all liability arising out of accident causing damage or personal injury (whether fatal or otherwise) howsoever caused to spectators or ticket holders".
Motor Sport is also a lot of fun 😉